The Avenue of Flags is done every Memorial Day at the Pilgrims Cemetery in Holland Michigan. There are currenly 419 flags that are placed in 10 foot spacings along the drives of the cemetery.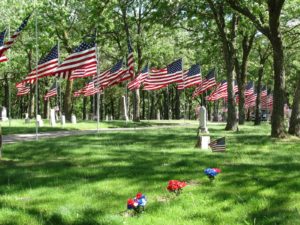 These flags are placed early morning, and removed in the evening. This is done by volunteers that consist of military veterans, Boy Scouts, and members of the community.
Please let us know if you would like a loved one honored by this program. By presenting your coffin flag, you can rest assured that there will be a living memorial to your deceased honored American Veteran for years to come. We will prepare a pole, the flag, and a brass nameplate attached denoting the name, branch of service, and era they served. Please give us your information if you would like to have a loved one remembered with a casket flag. You can also contact us if you would like more information.